May 5th, 2017 at 7:00 PM
Jon Allen Lecture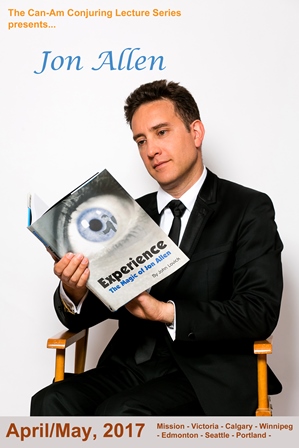 ...
Greenwood Senior Center
"West Room"
525 N. 85th St.
Seattle, WA 98103
The Greenwood Senior Center (GSC) is conveniently located on N 85th Street between Greenwood Ave N and Aurora Ave N. The GSC has an adjacent parking lot with free parking.

NW Ring of Fire Members: $25
General Admission: $30

---
May 6th, 2017, at 7:45 PM That's Impossible, Presents...
Hosted by Tim Flynn.
Featuring Steve Dobson, and Special Guest
Doors open at 7:45.
Table magic from 8pm to 9pm.
Stand up show begins at 9pm and closes at 10:30pm.

Delancey's On 3rd
810 South 3rd Street
Renton, WA 98057
Only $15.00
Tickets available at the door.

---
May 8th, 2017, at 6:30 PM
Magic Monday
The Magic Monday performance of magic, conjuring, & prestidigitation features exceptional local magicians from the Northwest region. The performances are offered at no charge, and open to the public.
Pre-show close-up performances begin at 6:30, and the parlor show begins at 7:00pm.

Third Place Books (Ravenna)
6504 20th Ave. NE
Seattle, WA.
---
May 11th, 2017, at 7:00 PM
NW Ring of Fire Meeting
Join us for an evening of sharing and magical brotherhood.
The May meeting will be held at the Kenmore Library.
6531 NE 181st Street
Kenmore, WA 98028
MAY THEMES: Fabric -OR- Story Based
---
...
Be sure to check out The Can-Am Conjuring Lecture Series page for our 2017 line-up!
Click here for the 2017 Seattle lecture schedule