March 3rd, 2018, at 2:00 PM Michael Ammar Lecture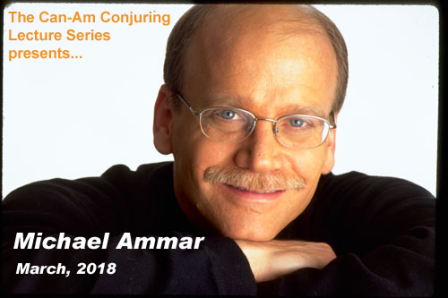 Michael Ammar is recognized as the world's foremost teacher of magic. David Copperfield calls him "the magicians magician." His book, The Magic of Michael Ammar, became the fastest selling book in magic history.
Michael has given instructional seminars worldwide, crossing all age, language, and distance barriers. Other professionals, including David Copperfield, David Blaine, and Siegfried & Roy have consulted with Michael for their magic.
His television credits include two appearances on The Tonight Show; The Late Show with David Letterman; CNN Headline News; World's Greatest Magic; Travel Channel: Magic of LA; International Magic Awards; The World's Best Magic Tricks EVER; and several appearances on Japanese and Korean television specials.
His ever-growing list of awards includes Magician of the Year; six awards for Best Lecturer from the Academy of Magical Arts; FISM Gold Medal in Close-Up Magic; two awards from the International Magic Awards; the Dragon Award; and West Virginia University's Distinguished Alumni award winner in 2005, for achieving international recognition in his profession.
One of the most recognizable names in magic, and surely one of the nicest guys in the business, it is my pleasure to welcome Michael Ammar back to kick off the 2018 season of The Can-Am Conjuring Lecture Series!
Shawn O'Donnell's (lower level)
122 128th St. SE
Everett, WA 98208

NWRF Members: $25
General Admission: $30

---
March 8th, 2018, at 7:00 PM
NW Ring of Fire Meeting
Join us for an evening of sharing and magical brotherhood.
Kenmore Public Library
6531 NE 181st Street
Kenmore, WA 98028

MARCH THEME:"Tribute" - Perform or discuss something by one of your favorite creators, or from one of your favorite genres of magic.
---
March 10th, 2018, at 7:30 PM That's Impossible, Presents...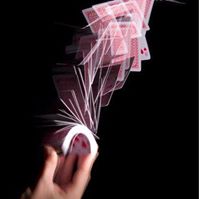 An evening of magic, mystery, and comedy!
Hosted by Tim Flynn
Featuring Special Guests: Tim Rose, and Louie Foxx
Doors open at 7:30
Table magic from 8pm to 9pm
Stand up show begins at 9pm and closes at 10:30pm

Delancey's On 3rd
810 South 3rd Street
Renton, WA 98057
Only $15.00
Tickets available at the door

---
March 12th, 2018, at 6:30 PM
Magic Monday
The Magic Monday extravaganza of magic, conjuring, & prestidigitation stars magicians from the Northwest region on the second Monday of every month. The performances are offered at no charge, and open to the public.
Pre-show close-up performances begin at 6:30, and the parlor show begins at 7:00pm.

Third Place Books (Ravenna)
6504 20th Ave. NE
Seattle, WA.

---
...
Be sure to check out The Can-Am Conjuring Lecture Series page for our 2018 line-up!
Click here for the 2018 Seattle lecture schedule