April 14th, 2018, at 7:30 PM That's Impossible, Presents...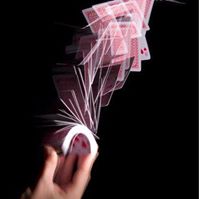 An evening of magic, mystery, and comedy!
Hosted by Tim Flynn
Featuring Special Guests: TBD
Doors open at 7:30
Table magic from 8pm to 9pm
Stand up show begins at 9pm and closes at 10:30pm

Delancey's On 3rd
810 South 3rd Street
Renton, WA 98057
Only $15.00
Tickets available at the door

---
May 10th, 2018, at 7:00 PM
NW Ring of Fire Meeting
Join us for an evening of sharing and magical brotherhood.
Kenmore Public Library
6531 NE 181st Street
Kenmore, WA 98028

MAY THEME: "Chance" - Perform or discuss something related to gambling, bar bets, or games of chance.
---
May 14th, 2018, at 6:30 PM
Magic Monday
The Magic Monday extravaganza of magic, conjuring, & prestidigitation stars magicians from the Northwest region on the second Monday of every month. The performances are offered at no charge, and open to the public.
Pre-show close-up performances begin at 6:30, and the parlor show begins at 7:00pm.

Third Place Books (Ravenna)
6504 20th Ave. NE
Seattle, WA.

---
June 2nd, 2018, at 2:00 PM Patrick Redford Lecture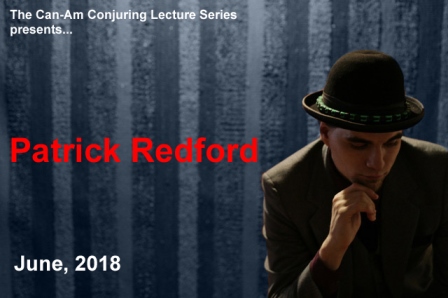 "Patrick G. Redford" was born out of necessity in 2004 as a pen name of a Michigan based performer after being asked to lecture to a group of performers. While it is no secret as to his real identity, Patrick prefers his publications to be kept well away from the Google Monster when clients and the mere curious google after a show. "Patrick" is "Redford's" real name, in fact his middle. The surname "Redford" stems from the town he spent his first thirteen years of life. The "G." is better left alone.
Redford has made a career with his unique Mentalism and has caught the ears and minds of such notable folks as Banachek, Derren Brown, Keith Barry, Marc Salem, Andrew Mayne and many others. He has advised and created custom projects for some of the top names in our field and continues to produce a wide array of material that is considered to be among of the "best of the best."
He has appeared at a variety of conventions around the world from IMX and Mindvention in Las Vegas to South Tynside's International Magic Festival in England. He's been seen on Finnish and American television and performed on stages throughout the USA, Canada, South America, South East Asia, and Europe. He toured with Masters of Illusion Live with highlighting his "Mind Tapped Art" and also worked behind the scenes helping to design one of the illusions on the world renowned show The Illusionists.
Please join us in welcoming Patrick to the 2018 season of The Can-Am Conjuring Lecture Series!
Shawn O'Donnell's (lower level)
122 128th St. SE
Everett, WA 98208

NWRF Members: $25
General Admission: $30

---
October 19 - 21, 2018 3 of Clubs Convention: SEATTLE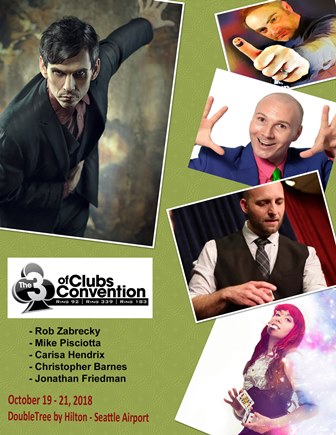 The 3 of Clubs returns for another spectacular weekend of magic! This year will be co-hosted by the Northwest Ring of Fire (I.B.M. Ring #339) and The Fraser Valley Magic Circle (I.B.M. Ring #387)
Registration information will be posted very soon!
Featuring:
Rob Zabrecky
Mike Pisciotta
Carisa Hendrix
Christopher Barnes
Jonathan Friedman
Lectures, shows, vendors, contests, flea market, and GOOD TIMES!

Double Tree by Hilton - Seattle Airport
18740 International Blvd.
Seattle (Sea-Tac), WA 98188
Earlybird Registration: (soon!)
Full website info coming soon (please check back often!)

---
...
Be sure to check out The Can-Am Conjuring Lecture Series page for our 2018 line-up!
Click here for the 2018 Seattle lecture schedule