February 18th, 2017 at 2:00 PM
Ice McDonald Lecture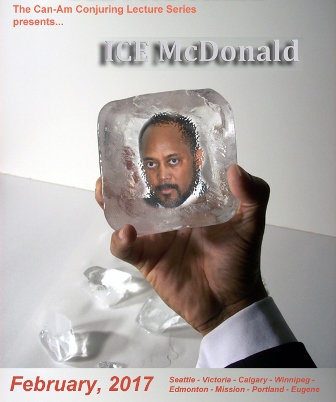 ...
Shawn O'Donnell's (Lower Level)
122 128th St. SE,
Everett, WA 98208

NW Ring of Fire Members: $25
General Admission: $30

---
March 9th, 2017, at 7:00 PM
NW Ring of Fire Meeting
Join us for an evening of sharing and magical brotherhood.
Make your way to the Richmond Beach Library
19601 21st. Ave. NW.
Shoreline, WA 98177
MARCH THEMES: Spheres -OR- Description Based
---
March 11th, 2017, at 7:45 PM That's Impossible, Presents...
Hosted by Tim Flynn.
Featuring Steve Dobson, and Special Guest
Doors open at 7:45.
Table magic from 8pm to 9pm.
Stand up show begins at 9pm and closes at 10:30pm.

Delancey's On 3rd
810 South 3rd Street
Renton, WA 98057
Only $15.00
Tickets available at the door.

---
March 13th, 2017, at 6:30 PM
Magic Monday
The Magic Monday performance of magic, conjuring, & prestidigitation features exceptional local magicians from the Northwest region. The performances are offered at no charge, and open to the public.
Pre-show close-up performances begin at 6:30, and the parlor show begins at 7:00pm.

Third Place Books (Ravenna)
6504 20th Ave. NE
Seattle, WA.
---
March 24th - 26th, 2017
The Portland Magic Jam
Featuring Banachek, Tony Clark, Asi Wind, and Michael Finney
For more information, and to register: Portland Magic Jam

---
...
Be sure to check out The Can-Am Conjuring Lecture Series page for our 2017 line-up!
Click here for the 2017 Seattle lecture schedule